New Staff Orientation
The DPH New Employee Orientation is designed to help new staff members learn about public health services as well as  the division, department and state government.
Welcome to the Division of Public Health

New Employee Required Forms - Day One

New Employee Required Forms - Week 1
DPH Required Training
For assistance with LMS training, please call 919-707-5450.
BEACON Training Acknowledgement Form (DOC, 51 KB)
Bloodborne Pathogen Awareness Training (PDF, 2.5 MB)
DPH Confidentiality Agreement (review, print, and sign)
DHHS: Understanding Harassment in the Workplace (Search in the Learning Management System/LMS, which can be accessed through Beacon.)
Incident Command System (2 courses): Disasters and emergencies happen every day. A major storm or pandemic may occur here in North Carolina and unfortunately, may affect you personally and also affect your workplace or require the Division of Public Health to lead a public health response to assist the affected populations. If the Division is activated for a response it does so through a statewide and national system that is coordinated by using the National Incident Management System. This system, NIMS, allows for people to have roles, know their roles and be coordinated without confusion—it's a way to get a little control during the chaos.

Everyone in the Division may be called upon to assist, either as a member of the coordination team or to continue essential functions in your usual workplace. Your anticipated role is defined by your current skills and any skills you choose to add. Each employee is expected to plan with your supervisor and manager what the expected or potential roles might be and what role-specific training might be needed. Each employee is asked to complete the basic training in order to understand how the system works and what each person's place might be. The training is role-specific but it is the expectation that ALL public health employees complete ICS-100 and ICS-700.


What is Public Health?
This is Public Health Video

(Association of Schools of Public Health)

13 Great Public Health Achievements in the 20th and 21st Century
Vaccine-preventable Diseases
Prevention and Control of Infectious Diseases
Cardiovascular Disease and Stroke Prevention
Occupational Safety
Cancer Prevention
Motor Vehicle Safety
Improved Public Health Preparedness and Response
Childhood Lead Poisoning Prevention
Family Planning
Maternal, Infant and Child Health Improvements
Fluoridation of Drinking Water
Food Safety and Nutrition
Recognition of Tobacco use as a Health Hazard and Tobacco Control

The 3 Core Functions and 10 Essential Public Health Services
The 3 Core Functions and 10 Essential Services of Public Health are illustrated below by the wheel graphic.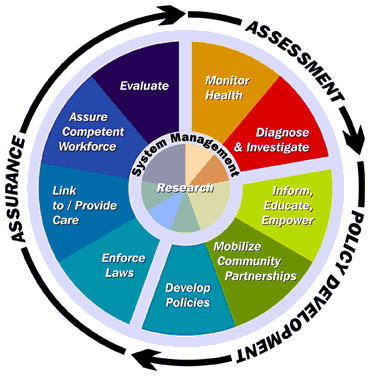 Assessment
Monitor health status to identify community health problems
Diagnose and investigate health problems and health hazards in the community
Policy Development
Inform, educate, and empower people about health issues
Mobilize community partnerships to identify and solve health problems
Develop policies and plans that support individual and community health efforts
Assurance
Enforce laws and regulations that protect health and ensure safety
Link people to needed personal health services and assure the provision of health care when otherwise unavailable
Assure a competent public health and personal health care workforce
Evaluate effectiveness, accessibility, and quality of personal and population-based health services
Research for new insights and innovative solutions to health problem